Doors
Central Trim manufactures built-to-order pre-hung doors for residential, light commercial and tenant finish projects. Our offerings include a variety of styles and materials including wood, MDF, fiberglass, and steel. These doors are also available in bi-fold, by-pass and pocket styles. For custom or specialty door needs, we have partnered with a few select regional manufactures for their quality and craftsmanship.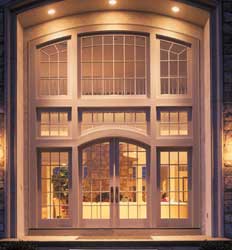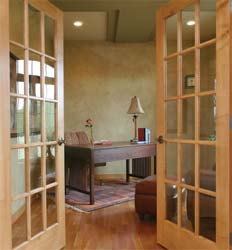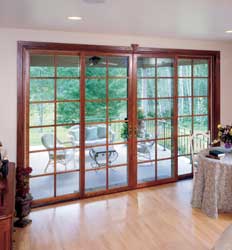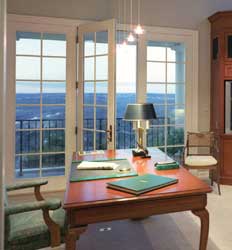 Established in 1912 by Henry McCleary and acquired by Simpson Logging Company in 1941, Simpson Door Company is one of the oldest continuously operating door plants in the nation.
Simpson manufactures some of the world's most beautiful wood doors. The company is located in the heart of the Pacific Northwest and produces a wide variety of door designs compatible with nearly every architectural style and price category.
With over 85 years of industry "know-how," Simpson Door Company has an asset that not many in this industry can claim! For more information, please visit: www.simpsondoor.com

TruStile Doors brings unmatched style selection and design flexibility to the medium density fiberboard (MDF) and wood door market. With TruStile's made-to-order manufacturing process, we can build a door in any style, any size, and any material – all with the shortest lead times in the industry. We offer over 300 door styles and can fulfill any custom door design, all made-to-order in your choice of paint-grade MDF, 12 species of wood, glass, or decorative TruClad® metal. If you can design it, we can build it – making TruStile your single source door provider!
TruStile announces the introduction of Authentic Designs™ - a tool designed to help you identify the perfect, architecturally-correct door for your home. Browse through our nine architectural design series, from Arts & Crafts to Victorian, to find a beautiful door for your home's architectural style. For more information, please visit: www.trustile.com

Over the company's 75 years history, Masonite has evolved into a building products company recognized for innovative products and customer service. Masonite is committed to developing cutting-edge technologies, unique processes and unparalleled new products that are created with the ultimate customer, the homeowner, in mind. For more information, please visit: www.masonite.com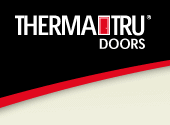 Therma-Tru Doors is the nation's leading manufacturer of fiberglass and steel exterior door systems and the brand of entry doors most preferred by builders and remodelers.

Founded in 1962, Therma-Tru pioneered the fiberglass entry door industry with the introduction of the Fiber-Classic wood-grained door in 1983. It soon became the standard for the entry door industry. Therma-Tru built on this innovation with the introduction of the Classic-Craft Oak grained door collection. The 1999 introduction of Smooth-Star smooth fiberglass again raised the bar of innovation in the fiberglass door industry.

Today, Therma-Tru is once again revolutionizing the marketplace with the elegant new Classic-Craft Mahogany Collection, the charming new Rustic Collection and has extended its expertise to patio door systems with the industry's most innovative collection of fiberglass hinged and sliding patio door systems. Therma-Tru offers complete entry and patio door systems, including handcrafted decorative doorlites and sidelites, transoms and door components through a national network of distributors, lumberyards and retailers.

Therma-Tru is helping millions of homeowners around the country improve the value of their homes with stylish, high-performance door systems that create beautiful entryways. Studies find that an enhanced entryway can add substantially to the perceived value of a home, making it one of the highest return on investments and most visible home improvements. For more information, please visit: www.thermatru.com

Since 1976, GlassCraft has designed and created beautiful door and glass products for discriminating home-owners, architects, designers, and home-builders. GlassCraft® is located in Houston, TX and currently employs 200 skilled craftspeople and designers . . . all focused on quality and customer satisfaction . . . producing custom and standard doors and millwork products with the quality and value our customers expect and deserve. For more information, please visit: www.glasscraft.com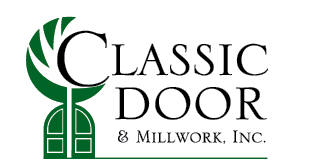 We specialize in quality custom entry units, but can also make standard interior doors to meet your various needs. All doors are handcrafted from premium materials that exceed manufacturing standards. Classic Door offers a wide variety of choices in wood species, glass texture, and design. Every door is a custom made door. If you can dream it and if it can be made structurally sound, Classic Door can make it. For more information, please visit: www.classicdoormillwork.com
Not all fiberglass doors are equal. Plastpro doors with heavy duty full-length LVL lock blocks and exclusive Hydroshield Technology feature fiberglass reinforced door skins, full-length composite stiles, and composite top & bottom rails that together form a composite edge perimeter that seals out moisture. For more information, please visit: www.plastproinc.com

Here at Woodport, we build quality custom doors. We pride ourselves on the skilled men and women that make our custom doors as beautiful as they are strong. Our wide selection is sure to have one right for you. For more information, please visit: www.woodportdoors.com

DOORMERICA is a manufacturer of quality door products. Operating three state of the art manufacturing divisions serving the entire nation. The Millennium Collection featuring decorative wood composite doors, The American Series architectural and residential flush doors, and the Architectural Components interior aluminum frame division. For more information, please visit: www.doormerica.com

Stylish options. Multiple designs. Eco-friendly Construction. JELD-WEN Molded Wood Composite interior doors are the perfect way to decorate with doors. With a wide variety of choices, you'll find many ways to update your home. For more information, please visit: www.jeld-wen.com

Founded in 1978, Lynden Door is a family owned and operated business that has become one of the leading producers of residential, architectural and commercial doors in the Western U.S. and Canada. For more information, please visit: www.lyndendoor.com
Midwest Iron Doors specializes in Thermally Broken handmade iron entry doors. Our patented thermal break gives you the beauty of a handmade iron door with increased performance over a traditional iron door. The prestige of a custom iron door has become a major draw to people throughout the country. Our dedication to providing innovative products lead us to providing the first thermal break iron door in the US market. For more information, please visit: www.midwestirondoors.com